THE FRONTIER GUN SAFE
72"x46"x28"
Gun Safes - Up to 40 Gun Capacity

Safes start at $1899
40 Min Fire

10-35 Guns - Side Shelves
Optional - Pistol Door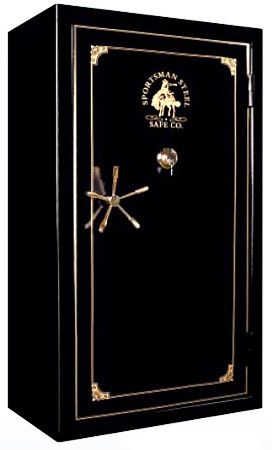 Safes Start at $1899 - 40 Min Fire
Factory-Direct Prices -
20%-50% Lower than Other Gun Safes!



72"x46"x28"
35-40 Long Gun Safe
Our Super-Wide 72"x46"X28" is considered the perfect size for sportsmen who own dozens of firearms and need extra space for family belongings, ammo and important documents. With a 4 1/2" thick double steel door and 10 gauge body (1/4" optional), this giant gun vault weights 1300lbs and can secure 50 long guns. When your firearm collection grows, it's nice having a gun safe with extra room to grow. This safe can be fireproofed from 30-100mins with 2300 Degree Ceramic Insulation. Customers who own the Frontier gun safe include the US Secret Service, and US Inspector General's Office. A gun safe from Sportsman Steel Safes, now that's piece of mind!
Call us for a quote 800-266-7150!

NEW! "Stretch" Option: 72" x 50" x 28" Add just $499.95
30 Gun Safe - Body
Uni-Body Bent Steel Construction
Holes for Bolt Down (ask your salesman)
Total thickness of safe wall - 1 1/2" with
Steel & Fireboard
Heavy 1/8" Steel Outer Liner -- 1/4" Steel Body Option
3/4" Thick Steel Frame Protects Your Bolts!!! -
Thickest in USA!
THE FRONTIER - STANDARD FEATURES
4 1/2" Multi-Steel Door
Single Expandable Gasket
10 Gauge Steel Body - 1/4" Optional
S & G Combo Lock - Made in USA
Custom Interior - 10-30 Guns / Shelves
1/2" Hard plate - In Vital Cut Areas
Gold or Silver Pin-Stripe & Logo

10 Bolt Locking System
2 Relockers - Spring-Loaded & Brass-Arm
Removable Door - Easier to Move Safe
1/2" Steel Bolt Protectors
Black or Burgundy Semi Gloss Finish
Avail. Colors - Brown, Green, White & Blue


CALL 1-800-266-7150
SEE PRICE TABLE AT BOTTOM OF PAGE -- BEST PRICE GUARANTEE! -- CALL 1-800-266-7150
NEW! 2013 Anniversary Series
Heavier & Stronger Safe than Ever!
72"X46"X28" - 1300 LBS
90 Min. Fireproof - 2" Jig-Saw Door
MONTHLY SPECIAL - $2999


FREE SHIPPING!




CALL: 1-800-266-7150





2" Jig-Saw Door
| | |
| --- | --- |
| Convertible Interior | 40 Guns with Shelves |
2013 FRONTIER Anniversary Series Features:
2" Jig-Saw Door - 90 Min Fire
2.25" Thick Fire Walls
2" Step Door - 5 3/4" Overall Thickness
Black or Burgundy Semi-Gloss Finish
5 Prong Spindle Wheel - Gold or Silver
Pistol Holsters on Door
Royal Interior - All Walls Carpet
Two Relockers - Brass-Arm & Indep.
Anniversary Silk-Screen Pin-stripe
Double Fireproofing (Door and Body)
4-Level Spring-Loaded Relocker
Main Expand Gasket - Polusal®

Change Combo Key / Feature
Brass-Arm Relocker in Lock
Gold or Silver Pin-striping and Hardware
Sargent & Greenleaf Combo Lock & Key (American-Made) Optional: LG-1 Digital Lock (American-Quick-Access)
Top & Bottom Bolt System
Double Expand Gaskets & Bolt Down Kit
Convert Interior (Guns & Shelves - Extra gun rack)
Life Time Warranty -- Includes Fire Warranty
Custom Double Pistol Holster
FREE This Month! - CALL 800-266-7150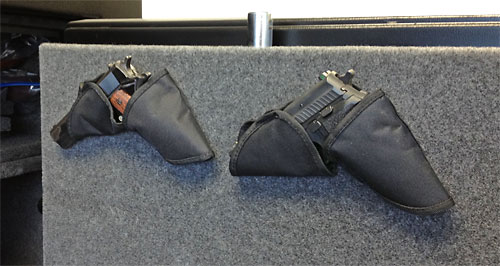 NEW

3/4" Steel Frame - Protects from Prying




NEW

1 1/4" Bolts with Fire Grommets



NEW! FRONTIER Gun Safe Video
CLICK ON IMAGE TO WATCH

We Beat All Competitor's Pricing.
Call Us and Find Out How.

Call: 800-266-7150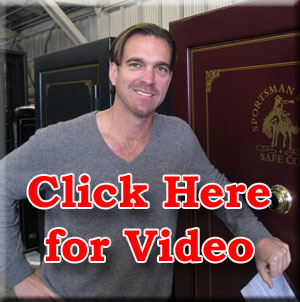 Wide-Open Gun Safe Interiors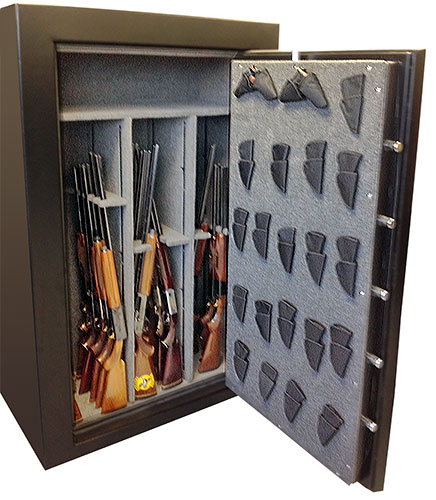 The Frontier Wide Body gun safes have 100% adjustable tracks for your shelves and gun rack to be adjusted. You can order your gun safe with five full shelves or a 48 long gun rack with two top shelves Most gun safe customers order a 18-34 long gun rack with four small side shelves

CUSTOMIZING YOUR GUN SAFE -- You Can Build Your Perfect Dream Safe -- We can paint your gun safe Wimbledon White, Diplomat Blue, Dark Moss Green, Black Lacquer, Burgundy, Saddleback Brown or Pewter Grey. You can add silver pin-striping or gold pin-striping. Artisan corners or your initials. You can custom order your gun safe with a Biometric fingerprint lock, a Sargent & Greenleaf Spy-Proof Lock or BOTH! Just ask us!

"BUILD YOUR DREAM GUN SAFE" -- Look at our gun safe option list and add all the options you want. The Dreamline Plan gives you the opportunity to build YOUR DREAM GUN SAFE. By customizing your safe, you buy the options you want. You and your family are the builders calling the shots. It's fun to be in charge of making your own Dream Safe!

Frontier gun safe with
digital lock and 24k gold plating.

Frontier gun safe with 2" Jig-saw door
and pistol hangers.

Fully Configurable Interior.
Custom Gun Racks available.
Call About Premium Safe Paints - 800-266-7150
CALL US:
Los Angeles - CALL 1-800-266-7150 · Houston 1-888-681-4140
NEW!Iron-American Series
Best Gun Safe Ever Built -
Three times the Strength and Fire-proofing.
The FRONTIER
Iron-American Series
72"x50"x32"
$5499

Sportsman's NEW Iron-American Series is the first gun safe built like a $10,000 bank vault. This premiere gun safe is the highest fire rated, most advanced design in the gun safe industry. With twin Defender Locks, Five Barrel Relockers, 1/4" Steel Body, 2300 Degree Ceramic, 2" Step Door, Inner Steel Liner, 2 Hour Fire and Stainless Steel Door liner, no gun safe on the planet compares! Our Iron-American Series is the only gun safe in the USA to incorporate features of a TL-Rated commercial safe and have the appearance of a piece of art.




CALL: 800-266-7150
Iron American Series Safe Features
1/4" Steel Body - American Made
3" Jig-Saw Door

NEW!

5" Thick Firewall Double-Steel
2 HR Fire
8 Layer Fire System - First EVER!
Triple 2300 Degree Ceramic
Quadruple Fireboard
D-Day Double Lock
5 Prong Spindle Wheel
Semi-Gloss Deluxe Finishes
15 Gauge Inner Liner of Steel

Gold or Silver Plating
18 Bolt Top & Bottom Bolt System
All Walls Carpeted
1" Solid 60RW Hardplate
3/4" Thick Bolt Protectors
4 Barrel Re-lockers
Double Steel Body
Continuous Welds in Body
Personal Initials
Fire & Lock Warranty
Lifetime Warranty
"The King of Gun Safes."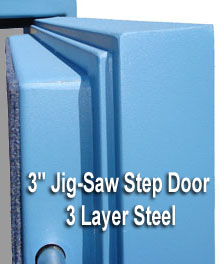 3" Jig-Saw Step Door - 3 Layer Steel
2 HR FIRE - Five Point Sealing Door
8-Layer Fire System - 5" Thick Fire Wall Double-Steel
5 Layers UL Fireboard
2 Layers 2300 Degree Ceramic
Double Steel Body Construction - Overall 3/8" Thick Steel
1/4" Outer Steel Body - 15 Gauge Inner Steel
Seven Colors - Semi-Gloss Deluxe Finishes
Silver or Gold Plating
Vibration Sensory - Optional - Call For Pricing
East Coast Sales - N. Carolina Plant - 1 866-723-3163
Central USA Sales - Houston Plant 1-888-681-4140
West Coast - California Plant - CALL 1-800-266-7150


Click to Meet Our Sportsman-Pentagon Team
NEW! Stainless Steel Shell - "It's Torch-Resistant!"

Forget about that old adage "You can crack any safe with enough time." With our new Stainless Steel Shell, torching our safe open is close to impossible. Torch-resistant stainless steel is continuously heliarc welded on all six sides of your safe. If a safe cracker tries to use a torch to compromise your safe, the flames will spit right back at him. Construction like this only comes on commercial safes over $10,000. But at Sportsman-Pentagon Safes you get a special factory-direct price. Stainless available - 1/4" - 1/8".

Call for a price quote - CALL 1-800-266-7150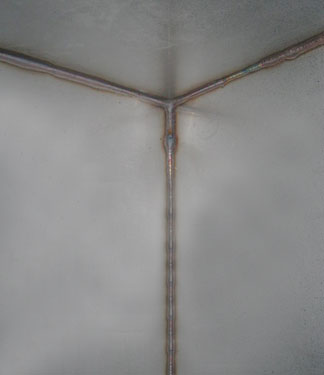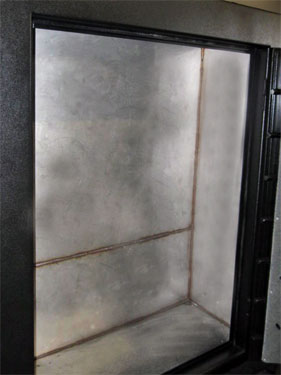 Stainless Steel Shell - "It's Torch-Resistant!"
Sportsman 2300° Ceramic Fire System

2300º Fire-Proofing Option
$199-$599 - Call for Quote - 800 266 7150

2 Layers of UL 5/8" fire liner on six sides of safe & door
2 Layers of 2300º Degree Ceramic on six walls & door
2 Polusal® Expandable Door Gaskets that expand to seven times their original size
2" Jig-Saw Step System Door -
4-Point Seal - Like a commercial-grade safe




Call for Quote - 800 266 7150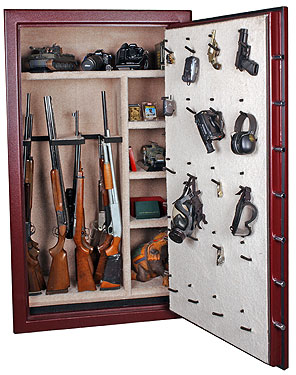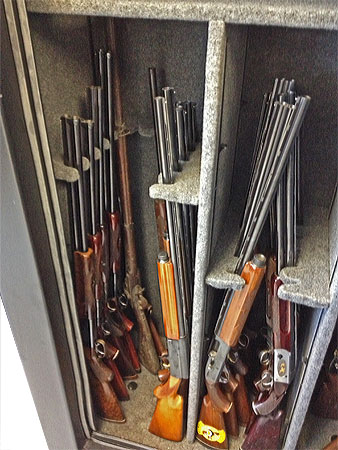 Custom Gun Racks Available - Anyway You Want!

CALL FOR FREE QUOTE: 800-266-7150
Our Jig-Saw Doors are just like the doors found on $10,000 commercial safes. They're available in 1" or 2" thick and constructed with a reverse step-system on your door and frame. So when you close your door it fits together like a jig-saw, making your gun safe the most airtight in the industry!




Store Your Pistols on the Door -
Ask Your Salesman For Pricing

Click for FREE BROCHURE




THIS MONTH ONLY - REG $200
FREE 12 TOP-BOTTOM BOLTS
Frontier Gun Safe Pricing
72"x46"x28"
F-1
10 Gauge Body - 30 MIN FIRE - 1/4" Door - 950LBS
$1899
F-2
1" Jig-Saw Door - 60 MIN FIRE - Twin Seals - Top & Bottom Bolts - 1200LBS
$2299
F-3
2" Jig-Saw Door - 80 MIN FIRE - Presidential Interior - 3/4" Frame - 1380LBS
$2799
F - Iron-American Series

72"x50"x32"

- 2 HR Fire - 8-Layer Fire System - 2050 lbs - 10-32 Long Guns w/Shelves
$5499
1/4" steel body option - $599 (standard on Iron-American Series)

NEW "Stretch" Option: 72" x 50" x 28" Add just $499.95
No One Beats Our Prices. No One Has Our Quality.

"Call us for a free quote!"
Los Angeles CALL 1-800-266-7150
Houston 1-888-681-4140

Do you live in the Central United States?
Contact our Houston store and save on shipping.
Visit our Houston or Long Beach Factory - Buy Direct!

Back to top